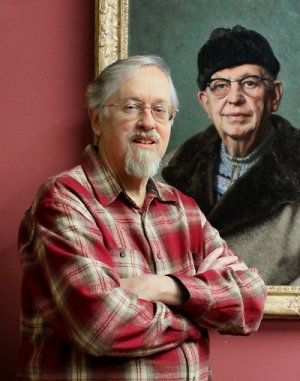 FORMER PRESIDENT, AMERICAN SOCIETY OF PORTRAIT ARTISTS

Town and Country magazine has named Richard Whitney one of the top twelve portrait painters in America. He is internationally known for his realistic paintings. He has won over 40 regional and national awards and three grants from the Greenshields' Foundation of Montreal. Whitney's paintings hang in over 650 public and private collections throughout the United States and abroad. They include the Anchorage Museum of Art and History, the Anderson House Museum, the Newark Museum, the Pentagon, Harvard University and the Catholic University of Portugal.
| | |
| --- | --- |
| | |
Born in 1946, Whitney graduated Phi Beta Kappa from the University of New Hampshire in 1968. He studied with Sidney F. Willis and with the eminent Boston painter, R. H. Ives Gammell, for five years. Over fifteen dealers and agents represent Whitney nationwide. Memberships have included the Society of Illustrators, the National Arts Club, Allied Artists of America, the American Artists Professional League, the American Society of Classical Realism, the Guild of Boston Artists and the Copley Society.

Whitney is a board member of the American Renaissance of the Twenty-first Century and the Art Renewal Center, the world's largest online museum. He is also Chairman Emeritus of the Advisory Board of the American Society of Portrait Artists Foundation, which was the largest portrait society in the world at that time.
Whitney's paintings have been seen on national cable television and have been the subject of numerous newspaper and magazine articles. He was the cover artist for the April 1982 issue of American Artist and was featured again in April 2000.

Whitney is the author of Painting the Visual Impression and a co-author of the book Realism in Revolution: The Art of the Boston School. His paintings have also been reproduced in the book Edmund C. Tarbell and the Boston School of Painting.

Whitney has traveled and painted in Europe, Japan, Alaska and the Caribbean and has lectured and conducted workshops throughout the United States. He is listed in a dozen reference books including, Who's Who in American Art, Who's Who in America, and Who's Who in the 21st Century. Whitney is also listed on AskArt.com, a comprehensive museum and auction sale reference web site.